Bannockburn Primary School joins PolyMAT - 1st November 2023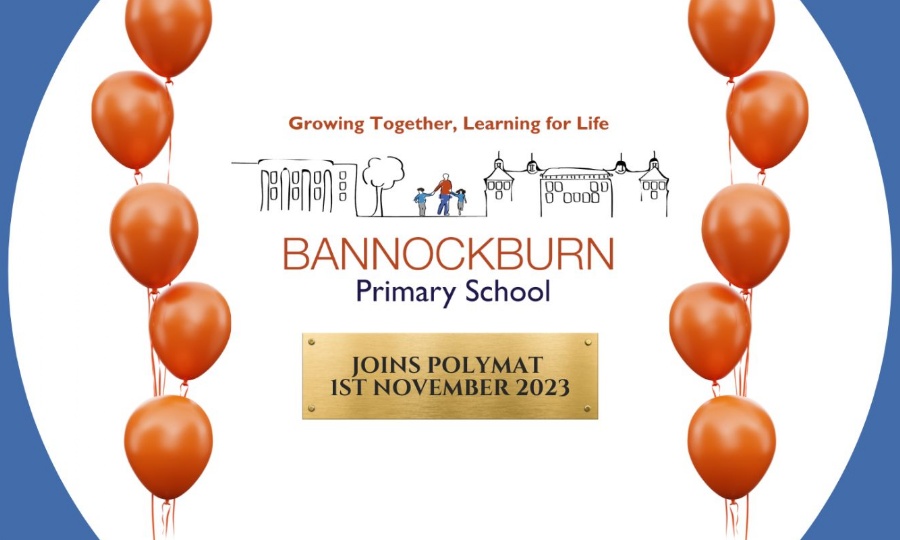 Bannockburn Primary School joins PolyMAT
We are very excited to announce that Bannockburn Primary School officially joins PolyMAT today, November 1st 2023. Bannockburn is a large and very successful feeder primary school to our existing two secondary schools and will be a key driver of our ambitions to develop our primary offer to other schools.
Bannockburn Primary School prides itself on fostering a unique and diverse learning environment that empowers students to reach their full potential. The school spans two sites, both located within the Plumstead area, offering a purpose-built nursery unit at the Manor Way site. Bannockburn is a school with high aspirations for pupils, their families and the community of Plumstead.
The arrival of Bannockburn means that we now provide education to over 3600 young people in the Thamesmead and Plumstead locality and can extend our work to achieve our vision of Success for Everyone through a cross-phase approach to the education journey.
Bannockburn's longstanding success and popularity are driven by their caring culture which always puts children first. This was evident from our first discussions and it was clear that PolyMAT's values of Care and Unity are already reflected in how Bannockburn look after their children and their community.
Our expanded partnership now offers the chance to design the learning journey "through the eyes of the child" and minimise disruption caused by the transition from primary to secondary. The benefits of staff collaborating between phases are considerable and we are all excited about the opportunities of working with our expanded "family".
Rachel Ford, Headteacher of Bannockburn Primary School, said: "We are all excited to build on our partnership with PolyMAT; sharing an aligned vision to provide our school communities with new opportunities and quality experiences".
Tim Plumb, CEO of PolyMAT, said: "Bannockburn is the perfect school to be the first part of our primary offer, and we warmly welcome their staff, children and community into our partnership – this is a special day for our schools and our Trust".
PolyMAT Welcomes Bannockburn to the Trust with a Sweet Surprise
This morning, our CEO Tim Plumb and COO Alexa Rendell visited Bannockburn's High Street and Manor Way sites to extend a warm welcome and to deliver some delicious chocolates. This visit commemorates Bannockburn joining our trust, and we couldn't be more thrilled about this partnership and what the future holds for PolyMAT.