Celebrating our best ever GCSE examination results!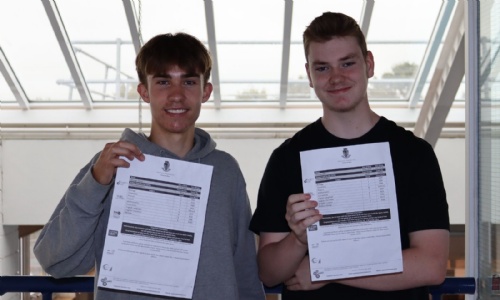 Woolwich Polytechnic School for Boys is delighted to celebrate its best ever GCSE examination results this year following a tremendous collective effort from staff, students and the support of our wonderful parents/carers. We smashed both the London and National averages with 34.1% of grades being 7 and above and 79.9% of grades being 4 and above. This is despite the fact that boys typically underperform compared to girls at a national level. Grade 9s, on their own, made up 6.5% of all grades achieved with many students gaining multiple 9s.
Most importantly, the gap between our disadvantaged students and the whole cohort was virtually non-existent, proving that our Vision of "Success for Everyone" is at the heart of all we do.
Despite the many challenges faced by our school family and our community, students and staff have achieved truly great things by demonstrating resilience, ambition and discipline. Many students attended additional lessons voluntarily every Saturday and some also on Sundays - such commitment is highly impressive and reflects our values of Care and Unity, always willing to go to above-and-beyond to create life opportunities.
Huge congratulations to our staff, many of whom have been part of The Poly for many years; they have worked incredibly hard and delighted in seeing the students being rewarded with such success.
Head of School, Mr Tom Lawrence, says:
'I am delighted and immensely proud to announce that Woolwich Polytechnic School for Boys have achieved our best ever GCSE results. Our amazing success translates to even more deserved opportunity for our outgoing year 11s, many of which we are welcoming back to extend their success in our Sixth Form. I must also congratulate teachers for their enormous efforts during the last very challenging years and offer my gratitude to parents for supporting their sons and us through these times: everyone's efforts have been rewarded with great success'.
Mr Tim Plumb, PolyMAT CEO, says:
'After experiencing many highs over my 16 years at the Poly, these results truly surpass our previous achievements. I am so proud of the staff and delighted for the students'.