Personal Development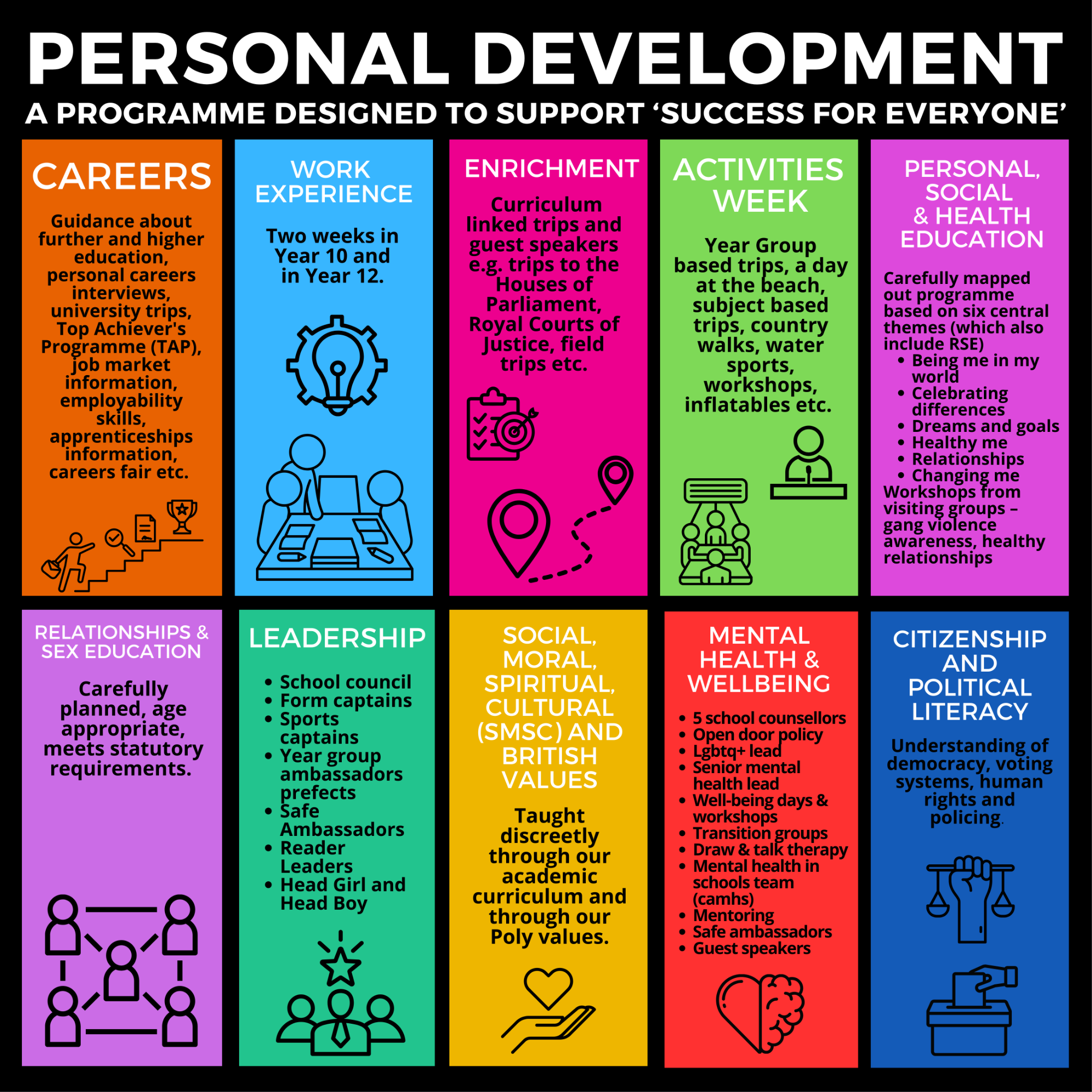 At Woolwich Polytechnic School for Boys, we deliver a Personal Development Curriculum to ensure that our students are well-informed, thoughtful decision makers who feel secure and safe in their personal identities, and are able to positively connect with all members of our community, with respect and compassion. We challenge students to reflect upon, and think critically about, the world around them, whilst supporting them to be safe and happy, be well-equipped for adulthood and be positive contributors to our society.
Our Personal Development Curriculum is carefully designed by our PSHE leads and includes Relationships and Sexual Health Education, Citizenship and Political Literacy, Careers, Curriculum Enrichment and Extra-Curricular Activities. Through this, our students are encouraged to develop their unique personalities and perspectives, grounded in knowledge and confidence.
To be well-informed, we believe our students are entitled to learn a broad and relevant Personal Development Curriculum, including current core knowledge of finance, online safety, mental health and well-being, citizenship, current affairs, character reflection and emerging trends. It is coherently planned to help students make sense of the world and ignite the passion and courage required to question the status quo, promote social justice and make a difference. Our pastoral team expertly lead an age-appropriate, specific learning journey, continuously adapting to current research and understanding, emerging trends and threats; working closely with local and national agencies to ensure the highest quality, bespoke learning experience for our students.
The Personal Development curriculum is intricately woven into all aspects of school life, so knowledge, values and decision-making can be reinforced and refined many times to build confidence wholesomely and sustainably within our students. Each strand is taught through the diverse lenses of life in Modern Britain encompassing British Values, and we deliberately teach our children the vocabulary to build confidence in their opinions and expressing their feelings.
Our taught PSHE/RSHE curriculum is complemented by a uniquely diverse and extensive enrichment and extra-curricular programme of the highest quality. Students are provided with a multitude of opportunities to try new things, discover new interests, develop their talents and connect with others more deeply, thus developing their emotional resilience, personal identity and long-term goals.
The strong foundation of our Poly and Proud ethos and clear routines means we are able to focus on developing our students' sense of purpose as they take responsibility for their personal growth with a determination to develop their moral compass to do the right thing, to make a positive difference to others, acting with integrity and empathy.
By embracing our ethos and engaging with our Personal Development Curriculum experience, Woolwich Poly students develop into knowledgeable, responsible, determined, tolerant and kind young people. Our students can grow into happy, safe and successful young adults, taking pride in their ability to look after themselves, and others, as they contribute significantly to our local community and the wider global society.
Click the links on the right to find out further information