Schools Direct - Train to teach at PolyMAT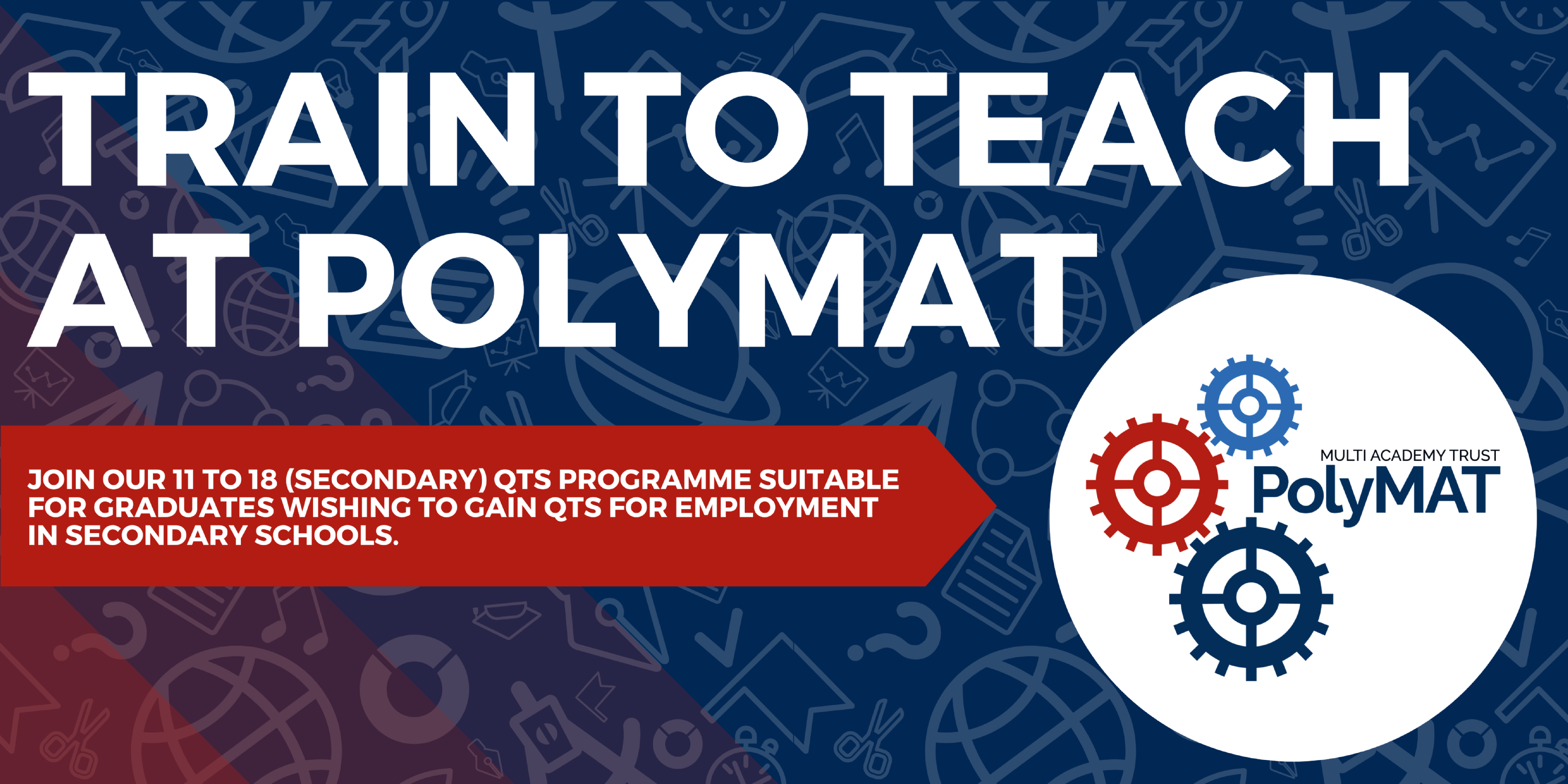 TRAIN TO TEACH AT POLYMAT - Woolwich Polytechnic School for Boys and Woolwich Polytechnic School for Girls
Join our 11 to 18 Secondary QTS Programme suitable for graduates wishing to gain QTS for employment in Secondary Schools.
School-led training courses give you the chance to learn 'on the job' in a school. You work as part of the teaching team from day one, learning from experienced, teachers and immediately putting your new skills into practice. Our programmes lead to Qualified Teacher Status with the option of a PGCE.
Who are we?
At the PolyMAT our vision is "Success for Everyone". We aspire for every member of our community, regardless of circumstances or background, to be the best version of themselves - confident, successful students, committed, successful staff, who are committed to growing and developing as practitioners, and engaged stakeholders who unite in celebration.
Benefits of joining the PolyMAT family
Be part of a trust that is inclusive, diverse and proud to serve its local community
A strong focus on teaching and learning
Support from like-minded professionals
Sharing best practice
High-quality staff development
Enrichment opportunities for students
Shared school facilities
Greater community involvement
A strong focus on data and pupil attainment
A strong focus on wellbeing
We offer Schools' Direct Salaried and Tuition fee placements with two placements across both schools within the POLYMAT. Each trainee must undertake these two school placements to gain contrasting experience of teaching. These placements enable the trainee to embed their knowledge and understanding of the core principles teachers' standards, giving a breadth of experience of teaching across the age range in their training year. During the training year we ensure that trainees teach across the full age range appropriately. School Direct Salaried trainees have a second school experience January / February for 6 weeks. SCITT and School Direct training (tuition fee) trainees are placed in one school September to December and then move to a second placement from January to July.
Benefits of partnering with Bromley Schools Collegiate
The PolyMAT is proud to be in partnership with the Bromley Schools' Collegiate, an outstanding and established provider with over 25 years of experience in Initial Teacher Training (ITT). Bromley Schools' Collegiate have trained over 1400 teachers and their trainees say they feel prepared for their ECT years. Through this partnership, we offer trainees practical school-based training with experienced mentors and a Senior Mentor, combined with weekly professional studies sessions to support their work towards academic assignments and the application of theory.
For more information about the Bromley Schools' Collegiate, click the link below to be redirected to their site. https://www.bscteach.co.uk/
BURSARIES
For 2023 to 2024, the bursaries available are:
£27,000 in Chemistry, Computing, Mathematics and Physics
£25,000 in Geography and Languages (including ancient languages)
£20,000 in Biology and Design and Technology
£15,000 in English
Applicants may be eligible for a bursary if they have a 1st, 2:1, 2:2, PhD or master's.
SCHOLARSHIPS
The DfE are offering scholarships of:
£29,000 in Chemistry, Computing, Mathematics and Physics
£27,000 in French, German and Spanish (no other languages)
Scholarships are usually available to applicants with a 1st, 2:1, master's or PhD, though in exceptional circumstances they may be awarded to a graduate with a 2:2 and significant relevant experience.
Scholarships also come with a package of additional benefits from the relevant scholarship body:
tax free scholarship
membership to the professional body
subject specialist events and webinars held by professional bodies online and face-to-face workshops across the country
subject specialist mentors and coaching
community of scholars (ex-scholars, teachers, subject leaders)
access to classroom resources
continuing professional development (CPD) and networking events during ITT year and alumni

Scholarships are applied for separately to ITT and only awarded to high calibre students who pass a robust application and interview process in one of the specialist subject areas. Scholarships are awarded instead of a bursary.
Scholarship applicants should apply to the relevant scholarship body.
Further guidance on postgraduate bursaries and scholarships is available in the initial teacher training (ITT) bursary: funding manual.

REQUIREMENTS
QUALIFICATIONS
Candidates must have a good Degree with a minimum of 2:2 classification (or equivalent)
Maths and English at GCSE C /4
We require 50 % of your undergraduate degree to be in the subject that you wish to teach in the Secondary phase or a good A level pass at grade B or better and evidence of continued subject knowledge development.

PERSONAL QUALITIES
We are looking for candidates who want to make a difference to the lives of children. We want you to have a genuine passion for teaching in our local area.

OTHER REQUIREMENTS
We do not require candidates to have school / classroom experience before making an application. We will undertake criminal record checks, health screening checks and request a CV.
To apply for this course through our training partner, follow the link below:
Apply for teacher training – GOV.UK (www.gov.uk)
For further enquiries, please contact ngayle@polymat.co.uk