Year 6 to Year 7 Journey
The Journey Starts Here
Welcome to Woolwich Polytechnic School for Boys, your journey with the Poly Family is about to begin.
Ms Franklin is the Head of Transition and Primary Liaison and her role at the school is to support you and your child through this transition process to ensure that you feel happy, secure and well-informed about the next step on your journey at our school.
We recognise that this can be a challenging time for families, and we work hard to make this a positive experience in which you feel fully supported.
If you have any concerns, please do not hesitate to contact Ms Franklin.
We look forward to meeting you and your child and to welcoming you to our Poly family.
Ms Franklin: gfranklin@woolwichpolyboys.co.uk
MESSAGE TO YEAR 7 PARENTS/CARERS - 31ST AUGUST 2023
Dear Parent/Carer,
We very much look forward to welcoming your sons to our school community next week. Below are the timings and dates for the first week back.
Wednesday 6th September - Your son is expected in school at 8.30am and will finish school at 3.05pm. Please ensure that he attends in full school uniform, his photograph will be taken on the first day. Please also access MCAS so that your son has funds with which to buy his school lunch.
Thursday 7th September - NO SCHOOL FOR YEAR 7
Friday 8th September - Academic Target Setting day in which your son will meet his tutor and the HOY 7 team. You will have been sent by email an allocated time slot for you and your son, this process should take no more than 10 minutes. Your son should be wearing full school uniform on this day
Monday 11th September - A normal school day for all, all year groups in and normal lessons will take place. 8.30-3.05pm
Please let us know if you have queries in regard to the above. My email is gfranklin@woolwichpolyboys.co.uk
Ms G Franklin
Head of Transition & Primary Liaison
Reminder - Arrangements for the first week of term September 2023
SUMMER HOLIDAY HOMEWORK FOR YEAR 7 2023
Meet our Year 7 Students at Woolwich Polytechnic School for Boys!
The transition from primary to secondary school is a very exciting time for students and their parents/carers. We also understand that this can also be a daunting and anxious time where you will have many questions about your child and their future at our school.
Please enjoy this video that we have put together where students talk openly and honestly about their experiences so far at Woolwich Polytechnic School for Boys. For most of these students, this was a completely new experience, and we are delighted that they spoke with such confidence and that their sparkling personalities really shone through, we could not be prouder of them!
Webinar for Parents/Carers supporting transition from Year 6 to 7
Year 7 Information Evening July 2023 PowerPoint
Year 6 to Year 7 Transition Checklist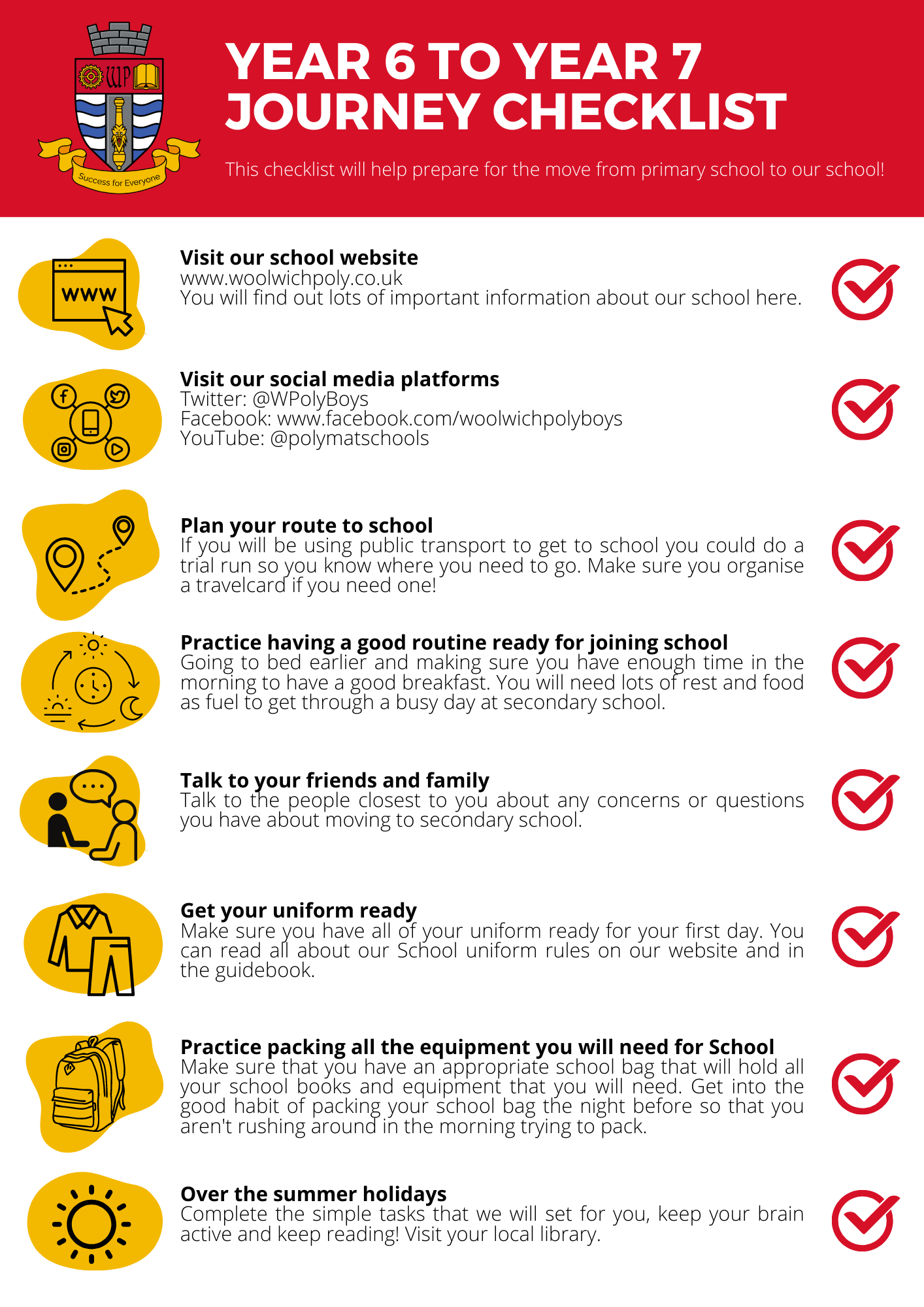 year 6 to 7 transition - useful links and resources
Year 7 Guide for students and parents/carers 2023